Warm Hearts for Warm Homes
We understand the importance of having a warm home, and we want to do our part to help those who are working diligently to get through economic hardship. Do you know someone that could use help to reduce their heating expenses? Nominate them to receive the gift of heat!
Read about some of the deserving families we've helped over the years:
2012 | 2013 | 2015 | 2016
2016: Tracey from Ohio
In May of 2016, Doctor Flue, inc received a very touching hand-written letter from Tracey, a Washington Courthouse resident. Tracey received an evaluation from Doctor Flue the month prior to evaluate the furnace flue, which she had stated had ice forming around the chimney and was wondering why this was happening. She also mentioned other companies had gone to her home to evaluate and made repairs, but the issue was reoccurring.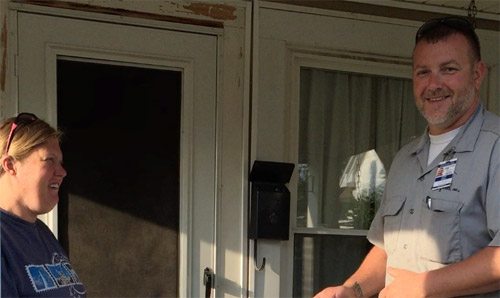 After Doctor Flue's CSIA certified technician, Jake Retter, performed a full-system evaluation of the furnace flue, he discovered multiple issues:
Water staining was seen on wood panel that is pressed against the chimney
The dry wall needed to be replaced due to deterioration beyond repair
Connector pipe could be seen mortared into the chimney with no signs of a liner being installed (not code compliant to the standing fire code, NFPA 211)
Moisture was pushing out between the storm collar and flashing; this was the source of the ice build up
Since no liner was ever installed, the cavity of the unlined chimney was filling with flue gases and is leaking into the home, causing water damage and mold growth
Jake then proposed her furnace flue to be relined with a new stainless steel liner, as well as venting to be installed through the roof…the repairs were extensive.
After receiving the proposal for repairs, Tracey contacted Kyria, the Office Manager, to further discuss a payment plan. Kyria understood her pending circumstances and wanted to help. She then spoke to her boss and owner, Doc, and her technician, Jake; they agreed Tracey would be a great candidate for Warm Hearts for Warm Homes program!
Tracey is a single mother of an active 12-year old boy. It is difficult for her to financially keep up with his extracurricular activities, but she makes him a priority and gets by. Her main concern is always her son…providing him with a happy and safe environment was imperative.
When Kyria contacted Tracey, she explained the program to her, and that she may qualify to be a candidate and get the repairs completed for $0 cost; Tracey was ecstatic and thankful for the consideration. Her technician, Jake, was passionate throughout the entire process. He knew Tracey was really in need and expressed his appreciation for the Warm Hearts for Warm Homes program. Soon after, her letter appeared.
Tracey explained she had been a day care teacher for almost 18 years, which allows her to get by from paycheck to paycheck, but financially, makes too much to receive any supplemental help from the government. She never even thought a home of her own would ever be possible until her bank gave her a chance to buy one…she loves her home.
Once the application process was complete, Doc quickly approved. Doctor Flue and their crew were on board and ready get the work done!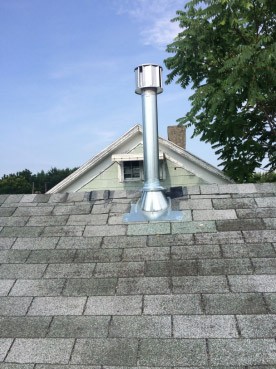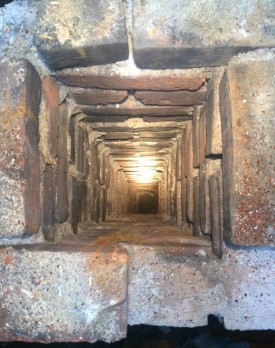 In July, Jake completed Tracey's installation. After the job was completed, Tracey thanked Jake and Doctor Flue for the kind gesture…in return Jake thanked Tracey for the hospitality and the opportunity to provide her and her son with the gift of warmth.
2015: Audrey from Michigan
Audrey lives alone. She has difficulty performing the daily tasks that many of us take for granted. One day, Kevon R. Binder of Doctor Flue, inc.®, who only lives a few blocks away from her, noticed some ongoing chimney issues including water damage that seemed to have gotten progressively worse. This issue prompted Kevon to knock on Audrey's door to see if she'd be willing to let him take a closer look.
After a complete evaluation, Kevon found several issues including, leaks, cracks, condensation from an improperly vented gas boiler, and an inadequate lining. He shared his findings with Audrey and though she knew her chimneys needed to be fixed, she was very concerned about the cost of those repairs.
Kevon knew he had to help. He quickly prepared proposals offering the absolute best remedy to stop further deterioration of each chimney and a lifetime warranty for Doctor Flue's professional work. The best part – Kevon told Audrey that her chimneys would be repaired at $0 cost. Kevon personally nominated Audrey for Doctor Flue's Warm Hearts for Warm Homes program and approved the installation. Additionally, he worked with the local village government to have the cost of the work permit reimbursed.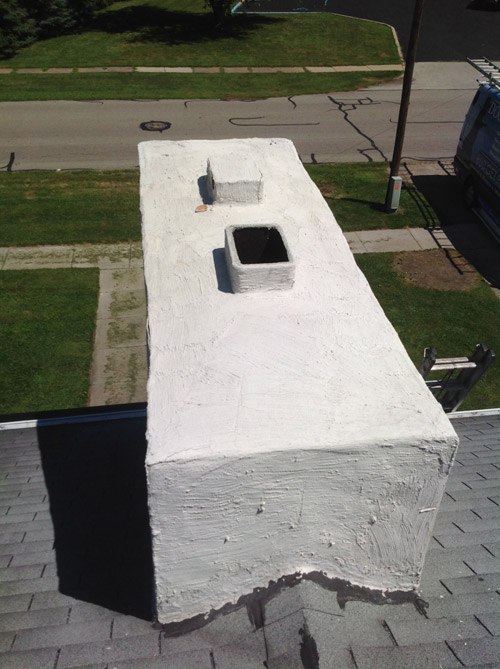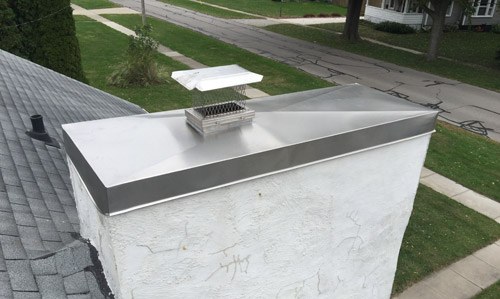 Both Kevon and Audrey know the compassion of the people in their small community. Audrey experienced it first-hand not only through the Warm Hearts for Warm Homes program, but through the kindness of the village staff and others that help her on a daily basis, from mowing lawns and grocery shopping to household chores.
2013: Tamara from Michigan
Tamara is a Michigan resident that recently lost her husband to cancer. She works full time to support her two young children, Emma and Parker. A family friend nominated Tamara to receive Doctor Flue's "gift of heat" through the Warm Hearts for Warm Homes program. He described Tamara as a very loving and considerate person, always giving to family, friends, church, and community.
"Please consider this sweet family as candidates for your services. They are going through a rough time and are unable to pay for the repair costs because of overwhelming medical bills. Thank you for this kind service you are providing for those in need," said the family friend.
The installation was done in two stages. The first day, Doctor Flue removed the current clay tile lining. On the second day, the new fireplace insert was installed and pre-insulated with a stainless steel liner. A stainless steel chimney cap was also installed to prevent rain and animals from entering the chimney. The job was completed when trim panels were added.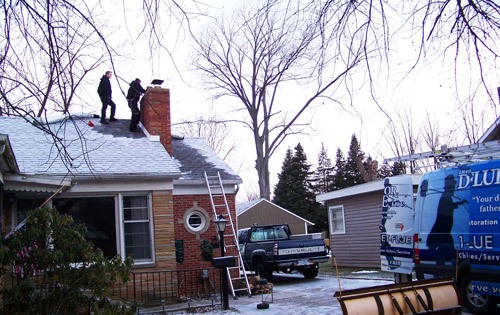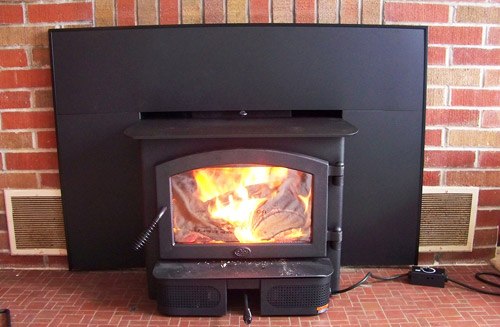 Kevon Binder, Sr. a.k.a. "Doc," lit the first fire, and educated Tamara and her family as to proper burning practices and operation of the stove from combustion air to the bypass damper, and the blower operation. Before the installation, Tamara kept the thermostat on 60°. Within two hours, the home reached 72°, giving warmth and peace of mind to Tamara and her family.
2012: Stephanie from Michigan
Stephanie is a Michigan resident that was having trouble keeping up with high heating costs in the midst of some very cold Midwest winters. That's when Stephanie's co-worker, Brion Crawford, nominated her for this program.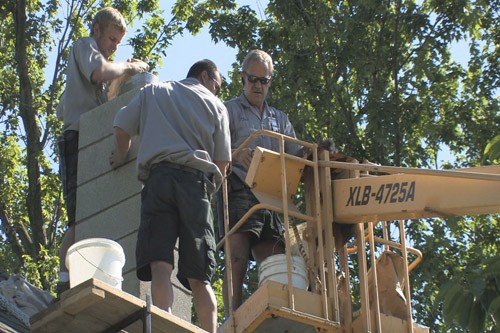 Says Stephanie, "Doctor Flue does an excellent job... I'm very, very thankful that he was able to do this for me."
Stephanie's co-worker, Brion, added, "My minister, Tom Hawkins, told us about Doctor Flue's Warm Hearts for Warm Homes program. We had Stephanie apply and she was accepted! So here they are, fixing her up and getting ready for the winter. Hopefully, she can cut her heating bills down dramatically this winter and have a warm home."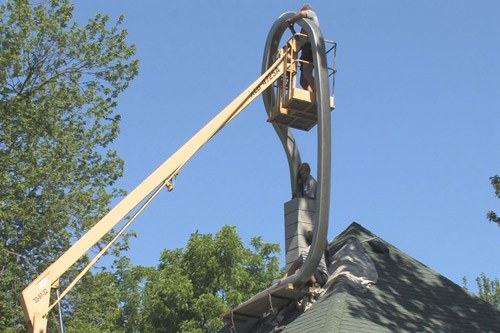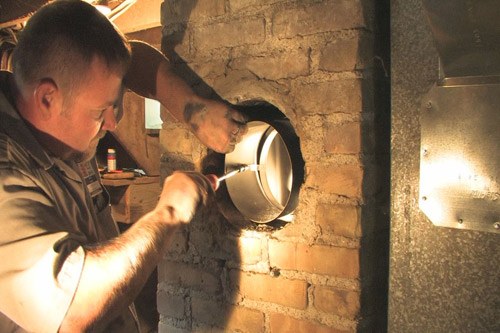 "It means the absolute world to me to have this done; to know my home will be warm this winter," said Stephanie.
About Doctor Flue, inc®
Doctor Flue currently employs CSIA Certified Chimney Sweeps to handle all chimney service needs, including safety inspections, chimney sweeping, chimney relining, chimney repairs, wood burning or gas fireplace repairs and installations, and more. We hire based on work ethic, heart, and integrity; the rest of the job we can teach!