Doctor Flue, inc.® - Professional Chimney Sweep & More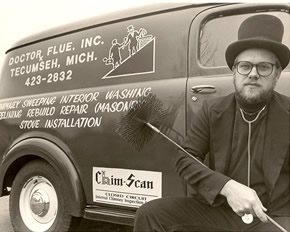 Our Beginning
My wife and I first developed Doctor Flue, inc.® on October 17, 1986. We began by answering an ad in Popular Science magazine. I obtained information and training as a result, and I was soon answering my first call for a service appointment. My wife also helped me carry buckets of brick up two stories by ladder, as I worked many hours into the evening during our start up years.
The Early Years
To distinguish myself from other companies, I would wear the traditional top hat and tails to each appointment and drive a very recognizable 1953 Dodge Panel truck, which had no heat and no windshield wipers. I learned early that both the eye catching uniform and vehicle were a good way to be noticed… a good way to advertise.
Family Owned & Family Focused
Today we drive distinctive "Sprinter" vans, have professional uniforms, and have serviced 30+ counties in four states. Doctor Flue, inc.® has evolved from a "One Truck/One Man" operation to where we are currently with five service vehicles.
We are a family owned, family operated and a family focused service company, dedicated to helping you and your family ensure the safety of your home to give the peace of mind that we all desire.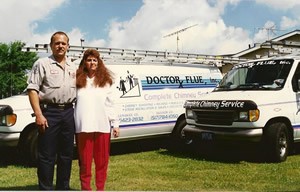 A lead, nationally certified sweep drives each of the five trucks that leave our drive daily. Our sweeps are equipped with the latest technological tools and diagnostic equipment. They are up-to-date with our industry and continuing educational requirements. We currently have a total of 11 employees at Doctor Flue, inc.®
Our Promise to You
Having grown up in a family business, I knew from an early age that trustworthy perseverance is mandatory. I have learned to listen to the customer and adapt my business directly to the needs of the home owner. I am confident that you will not be disappointed in me, or our family.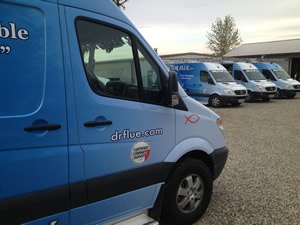 We are a company who will return your calls promptly, answer your questions thoroughly, treat you with respect and exhaust all possible options for solving your heating system needs. We will show up on time, protect and respect your property, and offer a fair price for superior products and superior services. We are constantly growing, adapting, and learning new innovative ways to serve you. We consistently acquire the latest training, products and technology.
Feel confident that from the initial call you make to our office, you will be talking to and working with fully trained professionals. My name is Kevon H. Binder, or "Doc", and I invite you to browse through our web site. Please take the time to familiarize yourself with all of our services and our employees. We understand the importance of trust, knowledge, respect and professionalism because it is what we have come to know that your family desires from ours!