Doctor Flue Serves Michigan & Ohio
Visit a local service area page, or take a look at our full service area list of counties and cities below.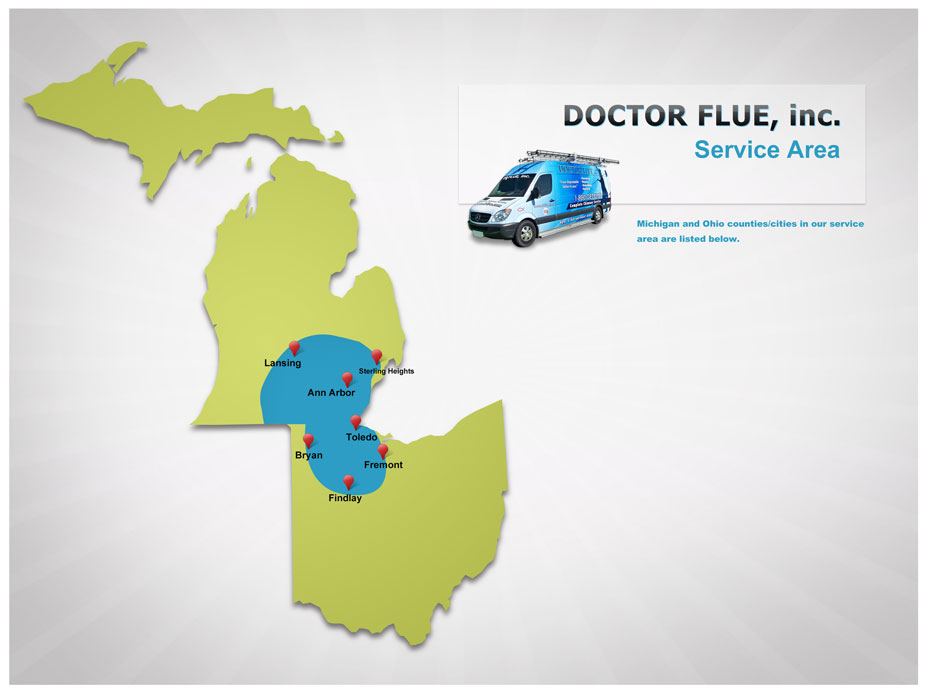 Doctor Flue offers a wide variety of services including: chimney caps, chimney repair, chimney cleaning, fireplace installation, fireplace facelifts, gas log repair, wood stove sales, and chimney inspections. We are proud to serve Southeast Michigan and a large portion of Ohio. Please review the list below to see if we service your area.
Michigan Counties and Cities
Branch

Coldwater
Crystal Beach
Lockwood
Pearl Beach
Quincy



Calhoun

Albion
Homer
Marshall
Tekonsha



Eaton

Bellevue
Charlotte
Dimondale
Eaton Rapids
Grand Ledge
Lansing
Mulliken
Potterville
Sunfield
Vermontville



Hillsdale

Hillsdale
Litchfield
Reading
Allen
Camden
Jonesville
Montgomery
North Adams
Waldren
Jerome
Moscow
Osseo
Pittsford
Somerset



Ingham

East Lansing
Lansing
Mason
Williamston
Dansville
Stockbridge
Webberville
Edgemont Park
Fitchburg
Haslett
Okemos



Jackson

Brooklyn
Cement City
Concord
Grass Lake
Hanover
Horton
Jackson
Leoni
Liberty
Michigan Center
Munith
Napoleon
Norvell
Parma
Pleasant Lake
Pulaski
Rives Junction
Spring Arbor
Springport
Tompkins
Vandercook Lake



Lenawee

Addison
Adrian
Blissfield
Britton
Canandaigua
Cement City
Clayton
Clinton
Deerfield
Fairfield
Hudson
Jasper
Morenci
Onsted
Palmyra
Sand Creek
Tecumseh
Tipton
Weston



Livingston

Brighton
Fowlerville
Hell
Howell
Parshallville
Pinckney
Whitmore Lake



Monroe

Azalia
Carleton
Detroit Beach
Dundee
Erie
Estral Beach
Flat Rock
Ida
Lambertville
Luna Pier
Milan
Monroe
Newport
Ottawa
Petersburg
Saint Anthony
Samaria
Scofield
South Monroe
South Rockwood
Stony Point
Temperance
West Monroe
Whiteford Center
Woodland Beach



Oakland

Berkley
Beverly Hills
Birmingham
Bloomfield Hills
Clawson
Farmington
Farmington Hills
Ferndale
Hazel Park
Lathrup Village
Madison Heights
Novi
Oak Park
Rochester
Rochester Hills
Royal Oak
South Lyon
Southfield
Troy



Washtenaw

Ann Arbor
Barton Hills
Bridgewater
Chelsea
Dehli Mills
Dexter
Dixboro
Geddes
Manchester
Milan
Mooreville
Salem
Saline
Stony Creek
Whitmore Lake
Whittaker
Willis
Ypsilanti



Wayne

Allen Park
Belleville
Dearborn Heights
Detroit
Ecorse
Flat Rock
Garden City
Gibraltar
Grosse Pointe
Grosse Pointe Farms
Grosse Pointe Shores
Grosse Pointe Woods
Hamtramck
Harper Woods
Inkster
Lincoln Park
Livonia
Melvindale
Northville
Plymouth
River Rouge
Riverview
Rockwood
Romulus
Southgate
Taylor
Trenton
Wayne
Westland
Woodhaven
Wyandotte


Ohio Counties and Cities
Defiance

Adams Ridge
Ayersville
Defiance
Evansport



Fulton

Archbold
Assumption
Delta
Fayette
Lyons
Swanton
Wauseon



Hancock

Arcadia
Findlay
Fostoria
McComb
Van Buren
West Independence



Henry

Deshler
Holgate
Liberty Center
McClure
Napoleon
New Bavaria
Ridgeville Corners



Lucas

Holland
Maumee
Monclova
Oregon
Ottawa Hills
Sylvania
Toledo
Waterville
Whitehouse



Ottawa

Clay Center
Curtice
Elmore
Genoa
Graytown
Oak Harbor
Rocky Ridge



Sandusky

Fremont
Gibsonburg
Lindsey
Helena
Woodville



Seneca

Bettsville
Fostoria




Williams

Alvordton
Bryan
Stryker
West Unity



Wood

Bowling Green
Haskins
Grand Rapids
Luckey
North Baltimore
Northwood
Millbury
Pemberville
Perrysburg
Rossford