Gas Stoves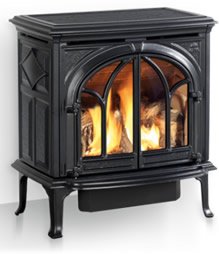 Whether high-end or economical, there is a gas stove to fit your style and budget. Gas stoves are perfect for warming your home, cooking, and adding a unique blend of practicality and style to your living space.
Our clients seek gas stoves for a number of reasons, especially to lower heating costs. Gas stoves offer zone heating: instead of heating the entire house, turn down the thermostat and use a gas stove to heat only the rooms you use the most.
Not only does zone heating decrease your energy bill, it's also good for the environment, because it reduces fuel consumption and saves energy. According to the HPBA (Hearth, Patio, & Barbecue Association), zone heating solutions can offer energy savings of 20-40%.
Zone Heating: An Efficient Way to Use Gas to Heat Your Home by the HPBA
Gas Stoves: Projects by Doctor Flue
Many of our clients choose gas stoves because installation is so easy. Freestanding gas stoves can be installed almost anywhere, with very little construction or modification. Several of our clients who own cottages use gas stoves to extend the season. Gas stoves also offer the warmth and ambiance of a wood with glowing orange flames and red embers.
Browse Gas Stoves
View our available gas stoves:
Kozy Heat
Quality Fireplaces for Life
Valor Gas Stoves
The Original Radiant Gas Fireplace
Jøtul Gas Stoves
Crafted in Norway since 1853
Our Service Areas
We serve large portions of Michigan and Ohio, including:
View Our Entire Service Area