Electric Fireplaces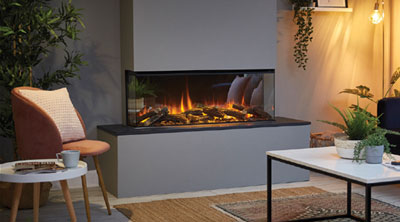 Everyone loves the look and feel of sitting down around a crackling fireplace. If you're thinking of upgrading your home with a new fireplace, it's hard to beat the convenience and simplicity of an electric fireplace! All the beauty of a traditional fireplace with unrivaled ease-of-use– that's the joy of having an electric fireplace in your home!
Install Anywhere
Electric fireplaces have the unique benefit of being installable practically anywhere. For homeowners, that means freedom to install a fireplace in the room of your choosing without needing to worry about the typical limitations of a fireplace installation.
With no venting required and a variety of shapes or sizes, electric fireplaces can fit anywhere. Electric fireplaces don't need venting, so they're safe to use in your home even without a chimney or flue. You can even place an electric fireplace insert inside of an existing fireplace that you do not or cannot use!
Doctor Flue, inc.® can install and service electric fireplaces to your home. Request a quote today!
See Our Newest Electric Fireplaces
Osseo
Quality Fireplaces for Life
The New Forest 48" Electric Fire
Our Service Areas
We serve large portions of Michigan and Ohio, including:
View Our Entire Service Area