Real Comments from Real Customers About Your Chimney Sweep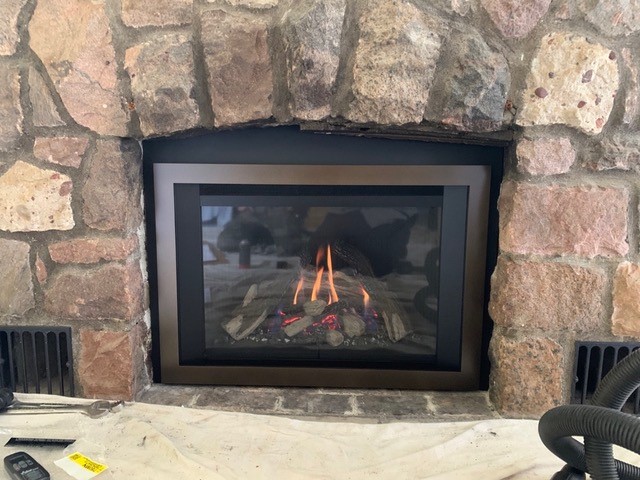 "Thanks to Kevon and all others that make the package of services from Doctor Flue spectacular."
- Len & Char Felgner
"I had Dr. Flue out to repair two very old chimneys, to line the chimneys, and to install a wood burning stove in my house. Kevon and the team showed up on time and immediately got to work taking down the old chimneys past the roof line. They lined both chimneys and installed new chimneys where the old had been. They took the old bricks in pails down from the roof and kept it a clean job site. They were here for two days and also installed a wood burning stove inside. When they opened up the chimney there was a lot of debris that had fallen down so dust from the debris was a concern.
They used a filtered vacuum and kept the inside of my house a clean job site as well as using tarps on the floors. The job was executed quickly and very clean. I thank the guys for the great job they did both making sure the chimneys were done right and for keeping things as clean as possible throughout this tough job."
Sincerely,
Nicole Gabel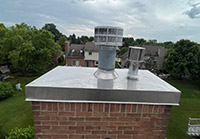 "Just wanted you to know how much Liz and I appreciate all that you have done for us. Your guys have shown that you are a top-notch company to deal with in every way. Please let everyone at DR Flue know how much we appreciate all the help that was given to us throughout this entire process."
- Mike Roberts
"Doc, I just wanted to say, on behalf of my family, thank you for bringing your company all this way to help. I appreciate all your work and knowledge."
- Jean Kessinger
"Once they arrived, they got right to work and took care of everything. They came, they saw, they conquered. I truly appreciate Dave and Nate and am excited to have a new chimney cover. Those guys were excellent!"
- Joe Foskey
"Your men did a terrific job on the inspection and cleaning of my chimney and wood burning stove . I thought at the time of the quote that the amount was a little high . I was mistaken. The time and effort and the cleanup was terrific. My stove works as well if not better than when it was new. I will have you do the inspection and cleaning annually from now on. As to the question about a new stove, I won't be needing one right now. Thanks for the good job and keep me in mind for next year."
- Chris Jones
"Thank you for this report and thank you so much for rescheduling us a month earlier than the original appointment. You may have saved us from a major catastrophe! Kevon Jr's knowledge, expertise, and thoroughness was much appreciated. He and Matt were neat, careful, and fine gentlemen."
- Jim and Sandy McClellan
"My insurance agent was very impressed with your work. He even wanted your contact information for himself and for recommending to his clients. Thanks again."
- Joel Plott
"Great job. Prompt, professional, and polite. I am a happy camper."
- Fred Hankin
"This company cleans my heavily used wood stove every year in expert fashion. I burn 24/7 during winter months, and my stove is very dirty by the spring. No problem for Dr. Flue, they come every year and it is clean as a whistle for the fall. I cannot recommend them enough."
- Deborah Comstock
"I recently sought help from Dr. Flue to repair a gap that had formed where mortar around my chimney had apparently eroded over time. From first contact with their office, to the final visit and completion of the work, my experience with Dr. Flue's staff was exceptional! They took time to understand the issue and provide me a simple cost estimate; scheduled a time to come out and shot me a reminder a couple days ahead of the visit; then showed up on time and prepared. Once onsite, they confirmed the work we had discussed would address the issue I originally reported. Then pointed out some significant chimney flashing issues I was unable to see from the ground. These were a result of a recent, shoddy roof re-shingle job done by another contractor. I was impressed how they stayed objective and did not bad-mouth the roofers - just pointed out the issues and likely consequences I could expect if they were to go unaddressed. In short, Dr. Flue's team earned my trust and respect. Alan, Kevon, and Josh, thank you for your time, work, and communication throughout. I will feel very good about recommending Dr. Flue to friends and family."
- Joe Sagan
"We had Doctor Flue come out to put a chimney cap on our chimney. We are very happy with the service received. They gave us before, during, and after pictures and explained everything they were doing. Kevon helped us pick out the color and it looks great. They showed up on time and cleaned everything up behind them. Would definitely recommend this company."
- Marla Brandt
"I'd like to thank Kevon for his outstanding service. When I did have problems after the initial service inspection, he talked me through the procedure. Thought we had the problem licked but it re-emerged. He came back last week and spent a fair amount of time troubleshooting and I believe resolved the problem. Since his visit, the fireplace has worked fine. Again, I would like to thank Kevon and his assistant for their prompt and courteous service and a job well done."
- Mike Oakes
"You guys were AWESOME! We love the new look of the fireplace and how easy it is to operate. Great improvement without having to scrap the whole thing and start over.... Definitely worth the investment :) We really love the remote control and the ease of use now. That and those doors have turned this into a real cool custom look instead of something that we just looked at, were ok with but not really loved, and made it useful. You guys did a great job!"
-Cliff and Laura Miller
"Our fireplace had been unused for 5 years due to an odor we were unsure of. We contacted Dr. Flue in Tecumseh, MI and they scheduled an appointment with us. They contacted us the day before their visit to remind us of the time they would be there. They were on time, very courteous, very informative and pleasant to deal with. They took lots of pictures and were very thorough. We could not have been more pleased with their service. They are top notch! In the future we know who to call if having fireplace issues -- Dr. Flue of Tecumseh. Job well done!!!"
- Ron & Gin Sparks, Satisfied Customers!
"Hello Mr. Binder,
I just wanted to take a moment to thank you. I think our incident was a learning experience all the way around, I know I used it on my boys! Your cooperation and professionalism show that you and your company have a high level of integrity. I look forward to seeing your team this spring for my cement work and I plan on using Doctor Flue for my yearly inspection before fire season starts."
- Richard Rogowski
"Had your son Kevon out to repair/fix a fireplace in a new condo, that was a problem from day one. What a pleasant, honest, kind person. Very, very knowledgeable, problems were due to poor installation by the builder. Parts that needed to be installed were sitting unpacked inside the fireplace. The way the entire process from the time Kevon walked through the door till he left was excellent. All the detail of explaining everything was beyond excellent. What a fine young man you raised.....wish there were more like him.....he puts faith in young, hard-working young men. Your our fireplace company from now on....thank you."
- Claudia Parker
Dear Kevon,
I want to let you know how impressed we are with your company's product engineering and service
Several years ago, your competitor installed a well-known fire place brand in our lobby at Weber's Inn. It never worked and we had to dispose of it.
Luckily we found your company in an internet search. You researched and selected a commercial fireplace that both heated our lobby and produced a beautiful flame for our guests to enjoy. You engineer solved our backdraft and ventilation concerns. The fireplace actually reduced our heating costs even though we ran it continuously during the cold winter months.
I recommend your company to everyone.
Sincerely,
Ken Weber
President
Weber's Inn and Restaurant
Ann Arbor, Michigan
"As of 1:30 pm on Monday, 11/6/17, this drafty old farm house had heat. Its old bones and mine were comfortably warm by 5:00 pm. Kitties happy too. Thank you. Please pass on my thanks to "Doc" for making my problem one that you were willing to tackle with a personal intervention on a Saturday morning. The boiler calibration with the new flue were completed without a hitch. I am very grateful."
- Alma Smith
"The guys were out to my home yesterday in Columbus and I just want to say that the fire is nice and high, and the whole fireplace and ambiance looks fabulous! I appreciate them persevering and it looks absolutely great! So, thank you to everyone that put in a hand!"
- Catherine "Kitty" Steele
"Mike and Dustin did an outstanding job repairing my gas fireplace. They were very courteous, extremely knowledgeable, and completed the job to my complete satisfaction. Their professionalism is to be commended! They are truly an asset to your organization. I will certainly recommend your company to my family and friends! They get FIVE STARS!"
- Cynthia Heath
"I was very pleased with the services we recieved from Doctor Flue. Their service was prompt and employees knowledgeable and pleasant. They made this chore simple, from the mailed reminder that I recieved in the spring to the refrigerator magnet with the recommended date of the next cleaning. Thank you Doctor Flue for being so professional!"
- Leila Corvrigaru
"Thank you so much for picking up on the fact that the documentation and original contractor were wrong when informing us that it was a double-wall and that the insulation sheild was in place. It still horrifies us to think what might have happened otherwise. You were prompt, neat, explained things clearly, and did a thorough job."
- Laura Woolley & Deorthy Yenni
Dear Kevon,
I just wanted to write you a short note to tell you how nice it is to have dependable and courteous service. Your reputation for honest and thorough work has taken hold with my family.
I also want to speak well of Jake. He was quite apologetic about the delay in arriving and since the freeway back-up is not his fault, I am still counting him as showing up "early". I know the original appointment time was noon. I won't go on too long. Please know that I am very satisfied and will keep our appointment for next year. Enclosed is my check for $158.00. Thank you so much!
Kindest regards,
Laura (and family)
Jake is a considerate man.
Jason Wallace Praise - Ralph Galvin
Jacques Thomson praises Jason and Ralph of Doctor Flue
Brad Wallis praises Jason and Walter
Lora Myers praises Alan and the Team