Fireplace & Chimney Cleaning Services
The Chimney Safety Institute of America (CSIA) recommends an annual chimney cleaning and chimney inspection as an important step in maintaining a safe heating system.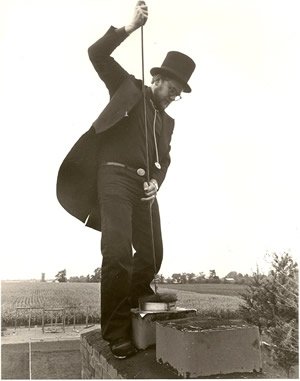 Benefits of an Annual Chimney Cleaning and Inspection
By having your chimney swept and inspected annually by a CSIA Certified Chimney Sweep, you can:
Catch Potential Fire Hazards
Remove Flammable Creosote Deposits
Remove Smelly Creosote
Catch water damage before it results in costly damage to the chimney structure or makes its way into your home.
Services Included in Your Annual Chimney Cleaning
Wood Burning Fireplace and Chimney:
When you hire Doctor Flue, inc. for your annual wood burning fireplace and chimney cleaning, you'll receive:
Removal of combustible deposits such as creosote and carbon
Video scan for structural issues (if readily accessible)
Onsite photo (exterior) review
Instant evaluation summary
Gas Burning Fireplace and Chimney:
When you hire Doctor Flue, inc. for your annual gas fireplace and chimney cleaning, you'll receive:
Cleaning of gas logs for better glow pattern
Removal of hazardous soot and carbon build-up
Inspection of valves for gas leaks
Instant evaluation summary
State-of-the-Art Chimney Cleaning Technology
Doctor Flue, inc. leads the industry in chimney sweeping and inspecting by using the latest technology available for chimney inspecting and cleaning services. We are constantly upgrading our cameras and video inspection devices as well as our "power sweeping" or "rotary cleaning" tools.
Our HEPA vacuum filters are cleaned and inspected each day to keep your home free of any contaminates. We protect your floor with drop cloths and runners and wear booties to eliminate the possibility of soiling any carpet or flooring. We will even deodorize your system after a sweep at no charge to you. (Due to personal preferences, we ask that you smell the deodorizer before it is applied).
Our Policies
Doctor Flue, inc. has numerous policies in place to make sure your experience with us is a positive one.
Personal Assistance: We have a live person answering our phone lines each weekday 8:00 AM to 4:00 PM to help assist you personally rather than a prerecorded message with prompts. This person is here to help answer any questions you may have about our services and to schedule any appointments / consultations that you may need.
Friendly Reminders: After booking your appointment, we will also provide you with a call four days prior to your scheduled date, as both a reminder and a confirmation that someone will be at the home at the designated time.
Professionalism: Your evaluation/ sweep will always be completed by a CSIA certified chimney sweep, employed directly by Doctor Flue, inc. (not a subcontractor).
Evaluation: Evaluation reports are complete with pictures of your areas of concern.
Prompt: We strive to always be on time; however, in the rare instance that situations arise to alter our arrival times (whether earlier or later) we will always call.
Photos: While we are visiting your home, you will be able to view photos of your flue/chimney (if applicable) on a mobile device (FluePad) with the assistance of the technician.
Formal Written Proposal: If your flue/chimney is in need of repair, these pictures will be viewed,available, and submitted along with your formal written proposal, listing the different options for your repairs or desired upgrades and exactly how much they will cost.
These reports are normally completed on site, at your home, at the time of the professional evaluation. There is no wait to get your concerns addressed. We email all documentation to you instantly.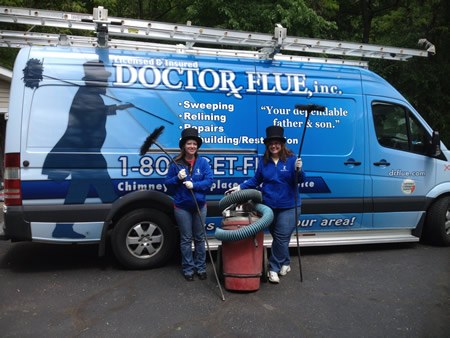 Our Service Areas
We serve large portions of Michigan and Ohio, including:
View Our Entire Service Area